Game Designer | Programmer | Writer
Location: Tampere, Finland
Languages
Finnish: Native
English: Fluent
Japanese: Basics
Introduction
I'm a senior game developer with multidisciplinary skills covering a wide range of subjects from programming to writing to business management. I have worked in the industry for over 9 years and was a CEO of my own company for over 4.
For the past 7 years I have worked with Unity almost daily and I have experience on working with several platforms, including iOS, Android, Windows, OS/X and Linux.
I regard roleplaying games as my forte, but I have a worked on a various genres, including collectible card games, plaftormers and casual puzzle games.
I'm currently a freelancer, looking for interesting opportunities and contract work.
Game Highlights
Trulon: The Shadow Engine
Kyy Games, Published by Powerpark, iOS & Android (2015),
Windows, OS/X, Linux (2016)
Producer, Lead Designer, Writer, Programmer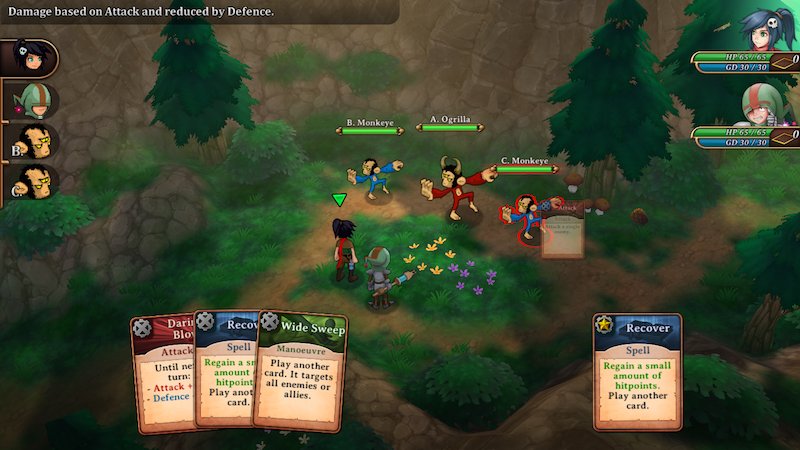 Trulon: The Shadow Engine is a roleplaying game with card-based combat mechanics. The setting is based on an IP created by the Finnish amusement park Powerpark.
I produced and did all the design and writing on the project, as well a big part of the programming.
Rimelands: Hammer of Thor
Dicework Games, Published by Crescent Moon , iOS (2010)
Lead Designer, Writer, Programmer
Winner of 2010 Unity Award for the Best Mobile Game
Metascore of 8.9

Rimelands: Hammer of Thor is a turn-based roleplaying game with dice-based combat mechanics and roguelike elements such as procedurally generated dungeons. It's still regarded by many as one of the best iOS roleplaying games.

I was the lead designer on the game, responsible for all high level design, as well as other design tasks and some of the level design. I also did all the programming and writing.
Trouserheart
Dicework Games, Published by 10tons , iOS, Android, Windows Phone (2013)
Programmer
Trouserheart is a lighthearted action adventure game with procedurally generated content.
I was the only programmer on the project, except for the Window Phone port.
Platforms: iOS, Android, Windows Phone
• Winner of Nokia Create Award
• Winner of Microsoft and Unity Windows Phone Competition
Previous Companies
Kyy Games (2013 – 2016)
Production Manager, Producer, Game Designer, Writer and Programmer
I joined Kyy Games when Dicework Games merged with the company in 2013. I filled a number of different roles, lately working as a production manager responsible for high level project management and human resources in the company. I also spend a lot of time writing and editing pitches for new projects, as well as scheduling and budgeting them.
Dicework Games (2009 – 2013)
CEO, Game Designer, Writer and Programmer
Dicework Games was a small 2 person indie company, which released three games during it's life time. We also did some subcontracting work. I founded the company with a colleague back in 2009 and at most it employed 3 people (myself included). I did pretty much everything excluding graphics and audio. For most of the time, we worked remotely.
Universomo (2007 – 2009)
Game Designer
I worked as a game designer on license-based mobile games. My duties included overall game design, level design and scripting and occasionally filling in for the team's producer. I worked with major IP holders such as Lucasfilm and Pixar.
Projects I Have Worked on as a Programmer
Cabals: Magic & Battle Cards (Kyy Games, iOS, Android, Windows Phone, Windows, OS/X, Linux, 2011 – 2016)
Super Snowball Roller Mayhem 3000 (Kyy Games, iOS, Android, 2016)
Rescue: Everyday Heroes (Fragment Productions, 2013)
Diceworks (Dicework Games, iOS, 2009)
Projects I Have Worked on as a Game Designer
Universomo / THQ Wireless:
Destroy All Humans 3 (Java Mobile, 2007) Puzzle Quest: Warlords (Java Mobile, 2007) Star Wars: Force Unleashed (Java Mobile, 2007) Wall-E (Java Mobile, 2008)
Star Wars: Clone Wars (Java Mobile, 2008) Super Fruitfall (Java Mobile, 2008)
Projects I Have Worked on as a Writer
Pass The Pigs (Universomo / THQ Wireless, Java Mobile, 2008)
Knights of Pen & Paper 2 (Kyy Games / Paradox, iOS, Android, Windows, OS/X, Linux, 2015)
Lectures and Presentations
Game Pro: Teaching a Game Development Course Tampere Technical University: Lecture on Game Design University of Turku: Lecture on Game Design
Casual Connect 2011: Presentation on Rimelands
Published Short Stories (in Finnish)
Ilves (Mustaa Lihaa anthology)
Borvarian Koirat (Kirotun Maan Ritarit anthology) Hanki Töitä (Kosmoskynä magazine)